Launching a brand? Don't be a Del Boy
There's plenty of us dream of building a brand but is it really possible, when all you have is a tap in your kitchen and a Rodney?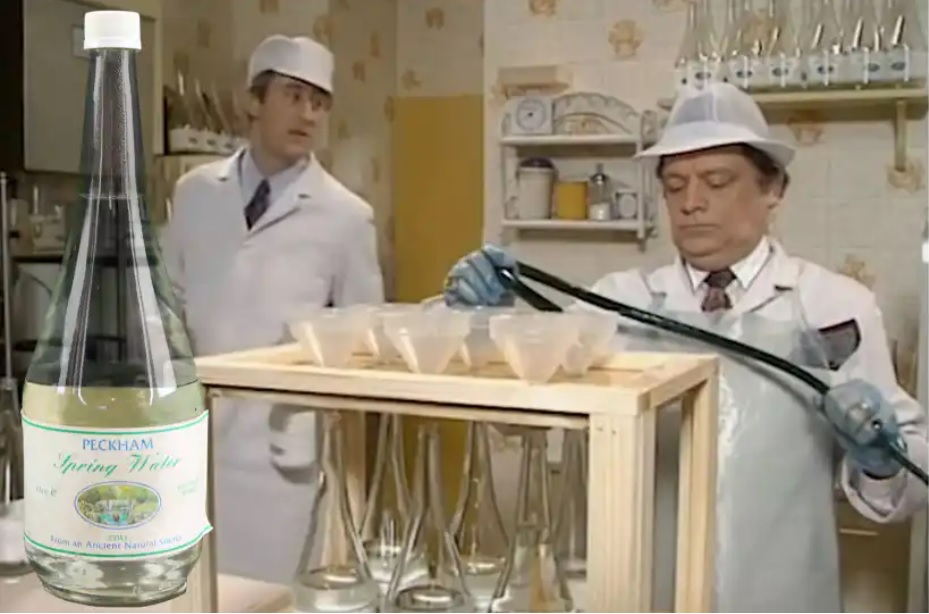 If you're old enough to remember this scene from popular British comedy "Only Fools and Horses" then you'll know that the main character Del Boy starts a premium bottled water business called Peckham Spring, using only a tap in his kitchen.  Funny. We thought so. But it's not just comedy. Plenty of brands start out from someone's kitchen table, back bedroom or garage. And some even work. But we're here to tell you, as hard as it is to hear, that the majority are unlikely to succeed. 
In our business we get to speak to lots of enthusiastic entrepreneurs who want to start a business.  We love them.  They have our heart and we'll give them our brains. But we always tell them the truth. That the world is littered by unsuccessful brands and closed down shopify stores.  Hell, we've even a few ourselves. 
They have an idea for a product, they've even got the brand identity, maybe a website but most are naive about one thing. Money. And how much money it takes to cut through in a crowded market. When everyone is yelling in the same marketplace and yet you don't have the arse or lips of the Khardashians to pump up and post on Insta. That's not us being facetious, or negative it's just plain fact. 
The answer to this quandary of how much money you need.  £1000's every month.  And that's just telling people you exist.  Build it and they will come does not apply to websites or social media accounts.  Those £1000's are not for stock, or premises or employees. That's just the marketing. 
When we tell them this, they will smile sweetly, some will start to sweat, some will even laugh but the ones who will make it are the ones who get this in their heads early on and plan for it.
So what can you do if you want to start a brand from your kitchen?
Plan like NASA.
Don't leave anything to chance.  The more you know the market, the more chance you have of succeeding.  Want to launch a Confectionary brand? Know that there are already 10 big players in the market who are going to outbid you on Google AdWords.  Including Cadburys.  Use tools and customer insight to identify your niche, your white space, where you can operate and offer something different in the marketplace.  There's millions of insight websites and thanks to google,  most are free. 
Find the money
Some will re-mortgage their house (we really wouldn't recommend this), a lot have built a pot from the day job, some will crowdfund or seek investment.  But either way you need a 3 year business plan, with spend and Return On Investment (ROI) forecasts.  That's a big old excel spreadsheet full of scary formulas that any potential investor will look at and see you are serious. Don't know how to do it? Ask someone like us. Simples.
Know what a brand is.
A brand is not a logo, a website or product packaging. A brand sits in someone's brain and heart and makes them go "oh yes I like you. You stand for something I believe in and you know what,  I'm going to buy from you."  Simon Sinek had it right when he said you need to know your "Why" as well as your "What."  Then when you know why your brand exists, seed it in everything you do. 
Be patient.
There's loads of well-known statements and facts that tell us that it takes a while to build a brand – apparently even Mr. Coca-Cola only sold one bottle in his first year.  But it does take time.  It takes time to find and reach your customers, it takes time to build trust in your brand, it takes time to get people to return to you time and time again.  Plan a year of investment and by the end of it, you should know if you have something that's going to work.
Take a 360 view of marketing.
Your brand needs to be everywhere, all at once.  Like Michelle Yeoh and then some.  A £50 voucher for Google AdWords just isn't going to cut it.  Test your channels early on.  All your channels.  We've seen plenty of brands invest everything in Google pay per click only to then get so hooked on it, they can't get off it. It's like crack cocaine. Addictive and expensive. And certainly not good to rely on it for the long term success of your brand.
Cherish your customer
One loyal customer is worth a hundred new ones.  Reward them, love them, cherish them.  And certainly don't forget about them.  Invest in loyalty and retention marketing early on. 
Phew that was a lot! If you got to the end, well done, and please don't be perturbed.  Just know this. Only Fools and Horses was one of the most successful brands in British comedy.  To this day its merchandise still fills the aisles of B&M at Christmas.  A brand started in a kitchen can succeed but it needs time and investment.  It's not quite the equivalent of the BBC's marketing, costume and prop department, and actors on a whole lot of dosh, but some days it will feel like it.  Stay strong,  invest in what's working, bin off what doesn't. Oh and you have to get yourself a Rodney, just for the laughs.