How to build an effective marketing team in 4 steps
Marketing
15th March 2022
One of the most common questions we hear from the CMOs and COOs we work with is: "How do I build my marketing team?"
For some of our clients it's a matter of building from the ground up: they've been working with agencies and now want to bring the skillset in house. For others, they want to grow. They might have a small team of 3 to 5 people and success has given them the opportunity to hire. The first question in both examples is fairly basic: WHO do we hire?
Let's break that down.
STEP ONE: Get started with the 5 'W's
We've already identified the first question – who do we hire? Let's now look at all 5 Ws in a little more depth. This is a great way to start figuring out your team's needs before you get into the more complex parts.
Who? Who are your people or who do you want them to be? What kind of personalities should they have, what skills do they possess?
What? What are your required job titles? What are their functions and what do these mean in relation to each other?
Where? From where will you find your people? Do you have a particular background or sector in mind? Perhaps you'd prefer agency experience, perhaps a background in the retail industry is what you are looking for.
When? When do you need to make these hires by and which roles are your priority?
Why? Why do you need each of these roles? Are their functions clearly outlined? Are there any roles you want to recruit for that might be more efficiently and effectively performed by a part-time (or ad hoc) freelancer?
Below is an example of how you might look at the 5 Ws for your team as a whole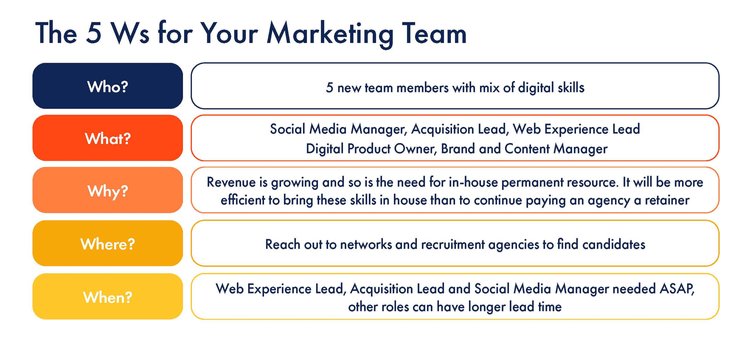 STEP TWO: Map out your structure
Now, we know that answering these questions is not straightforward. If it was, we wouldn't have so many clients asking for our help! BUT, once you have answered these questions it makes it easier to interrogate your answers and build a structure. We've shared an example of a typical marketing structure below that we've used with certain clients. This might not be quite the right fit for your company: your team's structure is indelibly linked to your company's goals, capacity and current resources, but it's a great place to start.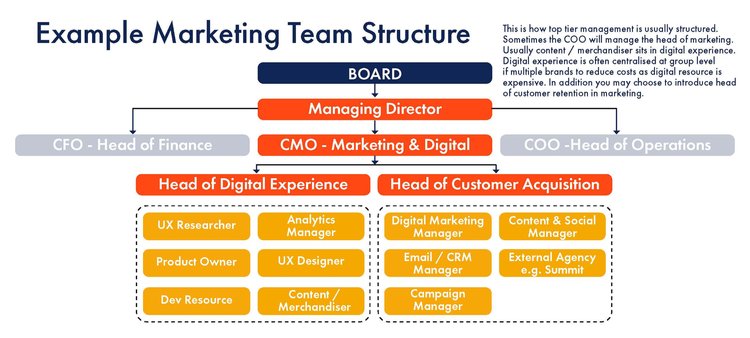 There are a lot of positions here and not all companies are able to take on this level of resource. If that's the case for you, the interim structure below might be more appropriate.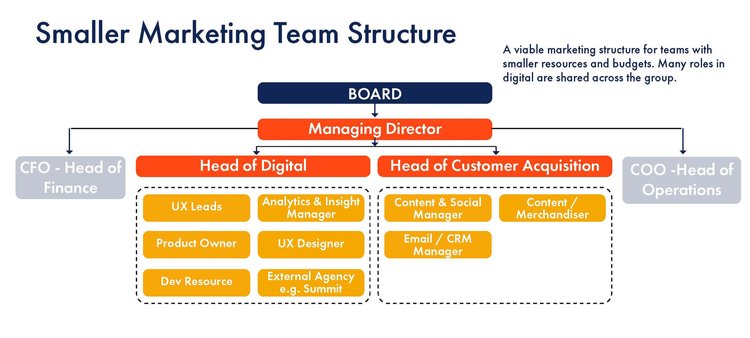 STEP THREE: Assess the needs for each role individually
With your structure and holistic team needs drawn up, what's next is to take a closer look at the individual roles and once again use the 5 Ws format to outline your requirements, including KPIs. Below is an example of how this might look for a Head of Digital role.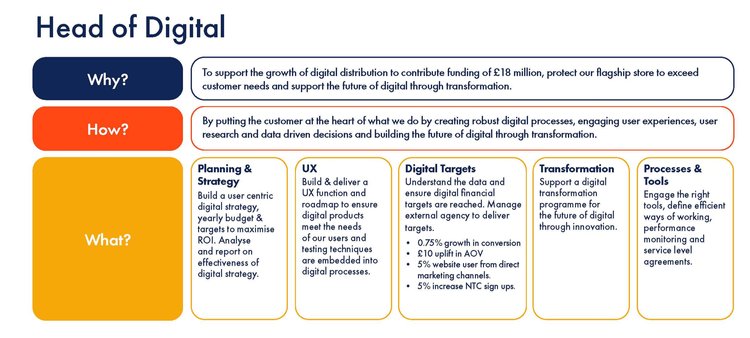 STEP FOUR: Fine tune your team
If you've run through the exercises outlined above you should now know what your ideal team structure looks like and the skills that will come with each candidate. What you may not have realized is what you need in terms of personality mix. Skills are of course essential: at the end of the day if you need someone who can pick up a social media campaign and run with it, you'll probably want to know that they have experience of running business platforms across Facebook, Linkedin and Twitter and that they can use social media tools and perform basic image editing. You might also want them to be passionate about content.
But have you considered what kind of a personality might be right for that role? This one's very tricky because there's really no right answer and, what's more, a personality doesn't exist in a vacuum. Ideally, you'll want to have a mix of personality types and traits in your team to encourage diversity of ideas and approaches.
If you're hiring several people at once, it can be helpful to look at the recruitment process in much the same way as a casting director might look at casting a family for a film. Chemistry is vital and when you have your key cast members you can work from there. Got a high energy, big ideas person in your Head of Digital role? You might want to find team members that can bring other attributes such as strong attention to detail and a calm nature. The perfect team will balance each other out.
If you need help in building your perfect marketing team, why not get in touch? We can put you on the right path and even introduce you to your next great hire.